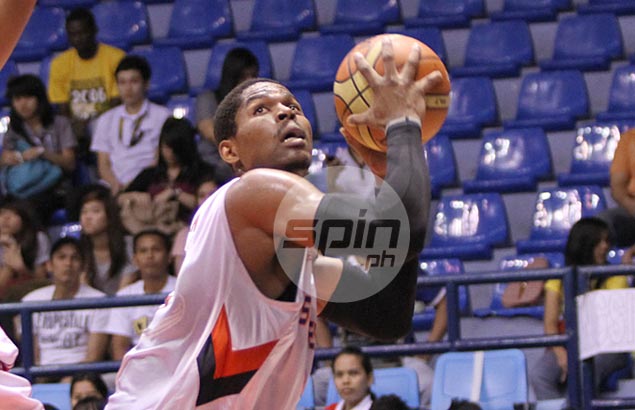 BEN Mbala has committed to play for De La Salle's Green Archers in the UAAP.
Ben Mbala and a host of Southwestern University officials made the trip to Manila on Tuesday and met with La Salle team officials during a luncheon meeting, according to a tweet by San Miguel sports director Noli Eala.
The Cameroonian standout was joined in the trip by SWU chairman Mariz Holopainen and head coach Yayoy Alcoseba.
"Its official! Benoit Mbala is playing for the Green and White. Welcome to La Salle, Ben," tweeted Eala.
La Salle team manager Eduardo 'Danding' Cojuangco, the man who led the school's aggressive recruitment push in hopes of landing the Green Archers their first UAAP crown since 2007, is the chairman of the San Miguel Corporation where Eala is director for sports.
Another high-ranking school official who refused to be named also confirmed Mbala's commitment but made it clear that he still needs to pass the academic requirements of the school before becoming officially part of the team.
"Yes he has committed to us but we cannot really officially confirm until he has enrolled this coming academic year," the school official said.
Nevertheless, Eala said that Ben Mbala will already be attending La Salle's first practice on Thursday.
Eala was given the task of recruiting Mbala from SWU after making the Cameroonian made heads turn during November's Philippine Collegiate Champions League.
"Many tried to recruit Ben Mbala. Was given a task to do, and its done. On to the next," Eala tweeted.
Eala also confirmed that Mbala will have to sit out for one year due to the collegiate league's residency rules for foreign players.
Ben Mbala, a former MVP of a Basketball Without Borders Africa camp, made a big impression during the PCCL after he averaged 27 points, 10.3 rebounds, and 3.7 blocks during the Final Four.
Mbala's recruitment came at the heels of La Salle's successful bids to recruit Xavier star Jeron Teng last year and Bacolod sensation Kib Montalbo weeks ago.
Source: spin.ph